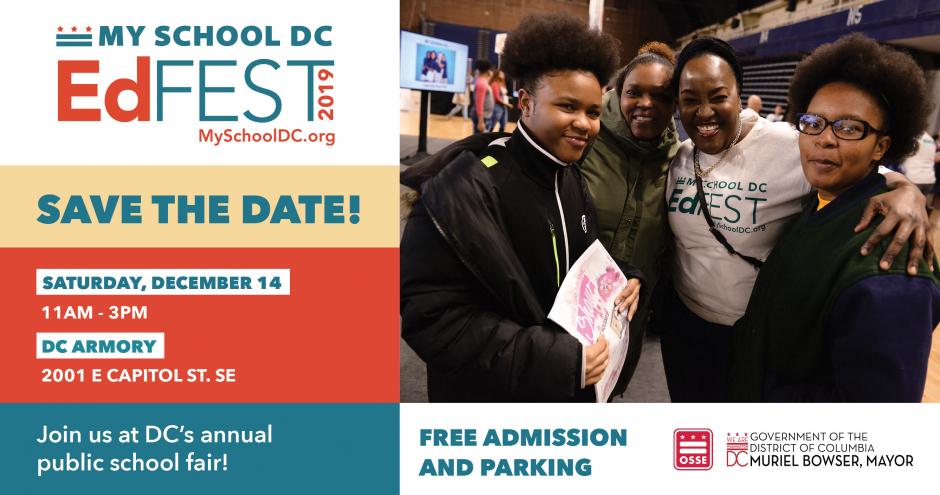 Find the school your child will call My School.
My School DC is excited to bring you EdFEST, DC's annual public school fair!
Save the date!
Saturday, December 14, 2019
11:00 a.m. to 3:00 p.m.
DC Armory (2001 East Capitol St SE)
FREE admission and parking
Let us know you're coming! RSVP here.
Interpretation in American Sign Language, Spanish, Amharic, Mandarin, Vietnamese, and French available throughout the day.
Spread the word! Download your EdFEST flyer today: English | Spanish (Español) | Amharic (አማርኛ፤) | French (Français) | Chinese (中文) | Vietnamese (Tiếng Việt)
Volunteer at EdFEST – we'd love to have you! Register HERE.
Transportation
Metro Station: Stadium–Armory (Orange/Blue/Silver lines)
Metro Bus: B2, D6, 96, 97
Free onsite parking: Lots 3, 4 and 5
About
Come to EdFEST and meet the city's public school options (PK3 – grade 12) for your child. Representatives from DC Public Schools (DCPS) and public charter schools will showcase their programs. With the launch of the My School DC lottery application on December 16, 2019 for the 2020-21 school year, EdFEST is a timely event to help you make informed school selections.
EdFEST will also feature many free services and fun activities for the whole family:
Lottery application information and guidance from the My School DC team – learn how it all works!
Kids eat free! Free boxed lunches for children and youth up to age 18 provided by DC Central Kitchen (while supplies last) between the hours of 11 a.m. – 1 p.m. DC Central Kitchen partners with the District's meals programs, serving children during school, after school and summer break
Get your flu shot at EdFEST! Flu shots and vaccines for youth and adults brought to you by Safeway Pharmacy and KIDS Mobile Medical Clinic/Ronald McDonald Care Mobile®. Don't have health insurance? We've got you covered! DC Health Link and managed healthcare organizations will also be onsite to share insurance benefit information with you!
Recreational activities brought to you by the DC Department of Parks and Recreation, including information about DPR Fun Days, Winter and Spring Break Camps, and Cooperative Play
Register for a library card with DC Public Library, sign up for Books from Birth, and learn about the library's Go Digital campaign
Key educational information, including a section dedicated to "Special Education in the District" where families can speak with representatives from the Office of the State Superintendent of Education, the Ombudsman for Public Education, Office of the Student Advocate, and other agencies that support students with disabilities
Meet WordGirl and learn about all the creative and educational programming WETA TV offers!
And much more!
Plan for EdFEST in 3 steps
EdFEST is a unique opportunity to learn about all your public school options (PK3 – grade 12), including key resources that will support you and your child throughout your child's educational journey. Follow these three easy steps to have a successful EdFEST:
Step 1: Think about what's most important to you and your family in a school. Is distance from home important? Before and after care? Academic offerings? Extracurricular activities?
Step 2: Make a list of schools to visit, including your DCPS in-boundary schools. You can apply to up to 12 schools on the My School DC application. Use the School Finder to search by address, grade, and program type and find DCPS and public charter schools near you, including your DCPS in-boundary schools.
Step 3: Ask questions! Download these helpful questions and bring them with you as you visit school booths on your list to help narrow your choices.
Chart your course by viewing the floorplan for EdFEST. School exhibitors are grouped into two sections (Grades PK3 – 8 and Grades 9 – 12) in reverse alphabetical order. Event staff, interpreters, and volunteers are on hand to make sure you get the most out of EdFEST!
Exhibitors
Schools are excited to meet you! All DCPS and public charter schools that participate in My School DC will exhibit at EdFEST.
The following options outside of My School DC will also exhibit at the event:
Kingsman Academy PCS (Grades 6-12)
Maya Angelou PCS – High School (Grades 9-12)
St. Coletta Special Education PCS (St. Coletta's is an "ungraded" program serving students ages 3 through 22 years old.)
Associates for Renewal in Education (PK CBO)
Barbara Chambers Children's Center (PK CBO)
Bright Beginnings (PK CBO)
Bright Start Early Care & Pre-school (PK CBO)
CentroNia (PK CBO)
Communikids Pre-school and Children's Language Center (PK CBO)
Educare of Washington, DC (PK CBO)
Edward C. Mazique Parent Child Center Inc. (PK CBO)
Gap Community Child Center (PK CBO)
Ideal Child Development Center (PK CBO)
Jubilee Jumpstart (PK CBO)
Kuumba Learning Center (PK CBO)
National Children's Center (PK CBO)
Nation's Capital Child and Family Development (PK CBO)
Spanish Education Development (SED) Center (PK CBO)
Sunshine Early Learning (PK CBO)
Key Resources
Educational support does not just start and end at the school. Make sure to visit these key resources available to families and students at EdFEST that will support you year round.
My School DC operates the common application and public school lottery for the city's public schools.
Office of the State Superintendent of Education (OSSE) is the State Education Agency for the District of Columbia. Learn about the many ways OSSE supports families, including the new school report card, early childhood, student transportation for kids with special needs, and college and career planning.
DC Public Charter School Board (DC PCSB) is the District's charter school authorizer. Public charter schools are independent from DCPS (the local public school system). The DC PCSB provides oversight to, but does not manage, any public charter school. Students complete a My School DC application to request space at a participating public charter school for PK3 – grade 12.
DC Public Schools (DCPS) is the city's local public school system. DCPS offers families a set and predictable K-12 pathway through its right-to-attend schools. Every K–12 student who lives in Washington, DC, has the right to attend at least one DCPS school — a school where he or she can directly enroll without applying through My School DC. Families can also choose to apply through My School DC to other DCPS options outside their right-to-attend schools.
Ombudsman for Public Education provides conflict resolution for families on all issues impacting student learning.
Office of the Student Advocate empowers families to navigate the educational landscape in DC and achieve equal access to public education through advocacy and outreach.
State Board of Education (SBOE) is responsible for approving state-level regulations, including state academic standards and District high school graduation requirements.
Learn24 is a network of afterschool and summer opportunities to ensure children and youth in the District have access to quality educational and enrichment activities beyond the school day.
Every Day Counts! is a citywide effort initiated by Mayor Bowser to ensure every student attends school every day.
DC Department of Transportation (DDOT) administers the Kids Ride Free program, which offers reduced fares for District students who use Metrobus, Metrorail or the DC Circulator to travel to and from school.
Connect.DC works to bridge the digital divide by making technology easier to use, more accessible, more affordable, and more relevant to the everyday lives of District residents.
DC ReEngagement Center reconnects District youth (ages 16-24) not currently in school and who don't have a high school diploma or GED to educational options and other critical services to support their attainment of a diploma or GED.
DC Public Library (DCPL) provides environments that invite reading, learning and community discussion and equips people to learn all their lives, to embrace diversity and to build a thriving city. Your local library is an excellent resource for applying to the school lottery through My School DC. Each branch has available copies of the My School DC school directory and residents have access to free public computers they can use to create and submit their My School DC application.
DC Census 2020: DYK that the federal government uses Census data to distribute over $6 billion annually to the District for vital programs? Learn more at EdFEST and make sure you and your children are counted for the 2020 census!
Department of Human Services (DHS) empowers every District resident to reach their full potential by providing meaningful connections to work opportunities, economic assistance and supportive services.
DC Health promotes health, wellness and equity, across the District, and protects the safety of residents, visitors and those doing business in our nation's Capital by identifying health risks; educating the public; preventing and controlling diseases, injuries and exposure to environmental hazards; promoting effective community collaborations; and optimizing equitable access to community resources.
Media Partners