Your lottery results explain your child's outcome for every school you selected on your child's application. The information in the sample results display below explains the terms used in the lottery results. This instructional video explains how the My School DC matching algorithm works. Questions? Call the My School DC hotline, 202-888-6336.
Sample Results Display
Click on a term below the graphic to get more information. For a complete list of result terms, click HERE.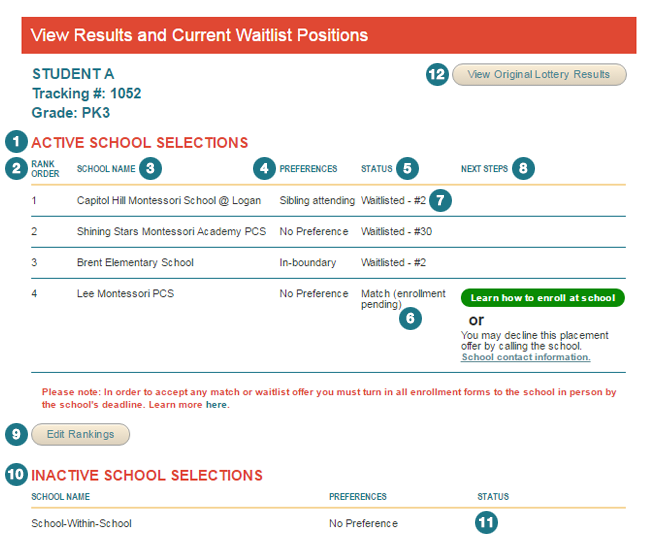 What do all these terms mean?
Next Steps:
If your child is matched to a school through the lottery for school year 2017-18, you must enroll your child in person, at the school, by May 1, 2017 or you may lose your space. Note: Enrolling your child at a school does not remove him / her off any waitlists. Learn more about how waitlists work HERE.
If your child was not matched in the lottery, if you did not accept your child's lottery match, or if you missed the lottery application deadlines, you can apply post-lottery HERE. Post-lottery applications are added automatically to the bottom of schools' waitlists in the order they are received and below applicants who applied and were waitlisted through the lottery. Learn more about the post-lottery period HERE.