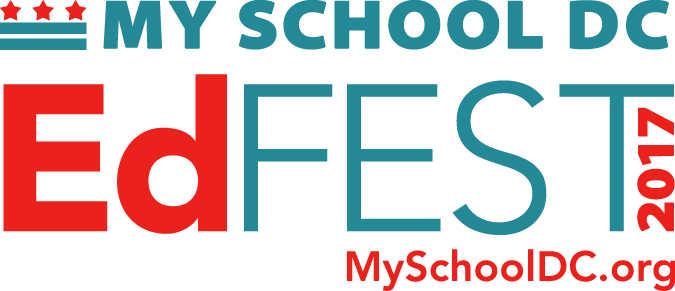 Find the school your child will call My School.
My School DC is excited to bring you EdFEST, DC's annual public school fair!
Save the date!
Saturday, December 9, 2017
11:00 a.m. to 3:00 p.m.
DC Armory (2001 East Capitol St SE)
Admission and parking are FREE
*Interpretation in sign language, Spanish, Amharic, Mandarin, Vietnamese, and French available throughout the day.
Spread the word! Download your EdFEST flyer today: English | Spanish (Español) | Amharic (አማርኛ፤) | French (Français) | Chinese (中文) | Vietnamese (Tiếng Việt)
Transportation
Metro Station: Stadium–Armory (Orange/Blue/Silver lines)
Metro Bus: B2, D6, E32, 96, 97
Free onsite parking: Lot #3
Take Lyft to EdFEST! Lyft is the official rideshare partner of EdFEST. New to Lyft? Download the app and use code EDFEST10 for $5 off your next 2 rides. Already use Lyft to get around? Use code EDFEST17 for 25% off your rides to and from the event.
About
Come to EdFEST and explore the city's public school options (PK3-12) for your child. Representatives from DCPS and public charter schools will showcase their programs. With the launch of the My School DC lottery application on December 11, 2017 for the 2018-19 school year, EdFEST is a timely event to help you make informed school selections.
EdFEST will also feature many free services and fun activities for the whole family:
Lottery application information and guidance from the My School DC team – learn how it all works!
Immunizations for youth and adults, health screenings for kids and teens, and lots more family fun, games and entertainment brought to you by the DC Department of Health and MedStar Georgetown University Hospital (Take a sneak peek at services offered by the KIDS Mobile Medical Clinic/Ronald McDonald Care Mobile and MedStar's FITNESS program.)
Recreational activities for all ages brought to you by the DC Department of Parks and Recreation, including information about DPR Fun Days, Winter and Spring Break Camps, and Cooperative Play
Enjoy story time with DC Public Library, register for a library card, and sign up for Books from Birth.
And much more!
Media Partners
School exhibitors
Schools are excited to meet you! Check out a complete list of who will be at EdFEST below.
My School DC participating schools
Achievement Prep PCS | PK3-8
Aiton Elementary School | PK3-5
Amidon-Bowen Elementary School | PK3-5
Anacostia High School | 9-12
AppleTree Early Learning PCS | PK3-PK4
Ballou High School | 9-12
Bancroft Elementary School | PK3-5
Barnard Elementary School | PK3-5
BASIS DC PCS | 5-12
Beers Elementary School | PK3-5
Benjamin Banneker High School | 9-12
Breakthrough Montessori PCS | PK3-1
Brent Elementary School | PK3-5
Bridges PCS | PK3-5
Brightwood Education Campus | PK3-8
Brookland Middle School | 6-8
Browne Education Campus | PK3-8
Bruce-Monroe Elementary School @ Park View | PK3-5
Bunker Hill Elementary School | PK3-5
Burroughs Elementary School | PK3-5
Burrville Elementary School | PK3-5
C.W. Harris Elementary School | PK3-5
Capital City PCS | PK3-12
Capitol Hill Montessori @ Logan | PK3-8
Cardozo Education Campus | 6-12
Cedar Tree Academy PCS | PK3-K
Center City PCS | PK3-8
Cesar Chavez PCS for Public Policy | 6-12
City Arts and Prep PCS | PK3-8
Cleveland Elementary School | PK3-5
Columbia Heights Education Campus (CHEC) | 6-12
Coolidge High School | 9-12
Creative Minds International PCS | PK3-8
DC Bilingual PCS | PK3-5
DC Prep PCS | PK3-8
DC Scholars PCS | PK3-8
Deal Middle School | 6-8
Democracy Prep Congress Heights PCS | PK3-8
Digital Pioneers Academy PCS | 6
District of Columbia International School | 6-11
Dorothy I. Height Elementary School | PK3-5
Drew Elementary School | PK3-5
Duke Ellington School of the Arts | 9-12
Dunbar High School | 9-12
E.L. Haynes PCS | PK3-12
Eagle Academy PCS | PK3-3
Early Childhood Academy PCS | PK3-3
Eastern High School | 9-12
Eaton Elementary School | PK4-5
Eliot-Hine Middle School | 6-8
Elsie Whitlow Stokes Community Freedom PCS | PK3-5
Excel Academy PCS | PK3-8
Friendship Online PCS | K-8
Friendship PCS | PK3-12
Garfield Elementary School | PK3-5
Garrison Elementary School | PK3-5
H.D. Cooke Elementary School | PK3-5
Hardy Middle School | 6-8
Harmony DC PCS – School of Excellence | K-5
Hart Middle School | 6-8
Hearst Elementary School | PK4-5
Hendley Elementary School | PK3-5
Hope Community PCS | PK3-8
Houston Elementary School | PK3-5
Howard University Middle School of Mathematics and Science PCS | 6-8
Hyde-Addison Elementary School | PK3-5
IDEA PCS | 9-12
Ideal Academy PCS | PK3-8
Ingenuity Prep PCS | PK3-4
Inspired Teaching Demonstration PCS | PK3-8
J.O. Wilson Elementary School | PK3-5
Janney Elementary School | PK4-5
Jefferson Middle School Academy | 6-8
Johnson Middle School | 6-8
Kelly Miller Middle School | 6-8
Ketcham Elementary School | PK3-5
Key Elementary School | PK4-5
Kimball Elementary School | PK3-5
King Elementary School | PK3-5
Kingsman Academy PCS | 6-12 (grades 6-8 participate in My School DC)
KIPP DC PCS | PK3-12
Kramer Middle School | 6-8
Lafayette Elementary School | PK4-5
Langdon Elementary School | PK3-5
Langley Elementary School | PK3-5
LaSalle-Backus Education Campus | PK3-8
Leckie Elementary School | PK3-8
Lee Montessori PCS | PK3-5
Ludlow-Taylor Elementary School | PK3-5
MacFarland Middle School | 6-8
Malcolm X Elementary School @ Green | PK3-5
Mann Elementary School | PK4-5
Marie Reed Elementary School | PK3-5
Maury Elementary School | PK3-5
McKinley Middle School | 6-8
McKinley Technology High School | 9-12
Meridian Public Charter School | PK3-8
Miner Elementary School | PK3-5
Moten Elementary School | PK3-5
Mundo Verde Bilingual PCS | PK3-5
Murch Elementary School | PK4-5
Nalle Elementary School | PK3-5
National Collegiate Preparatory Public Charter High School | 9-12
Noyes Elementary School | PK3-5
Orr Elementary School | PK3-5
Oyster-Adams Bilingual School | PK4-8
Patterson Elementary School | PK3-5
Paul PCS| 6-12
Payne Elementary School | PK3-5
Peabody Elementary School | PK3-K
Perry Street Preparatory PCS | PK3-8
Phelps Architecture, Construction, and Engineering High School | 9-12
Plummer Elementary School | PK3-5
Powell Elementary School | PK3-5
Randle Highlands Elementary School | PK3-5
Raymond Education Campus | PK3-5, 7, 8
Richard Wright PCS for Journalism and Media Arts | 8-12
Rocketship PCS | PK3-4
Ron Brown College Preparatory High School | 9-11
Roosevelt High School | 9-12
Roots PCS | PK3-5
Ross Elementary School | PK3-5
Savoy Elementary School | PK3-5
School Without Walls @ Francis-Stevens | PK3-8
School Without Walls High School | 9-12
School-Within-School @ Goding | PK3-5
Seaton Elementary School | PK3-5
SEED Public Charter School of Washington DC | 6-12
Sela PCS | PK3-5
Shepherd Elementary School | PK3-5
Shining Stars Montessori Academy PCS | PK3-6
Simon Elementary School | PK3-5
Smothers Elementary School | PK3-5
Somerset Preparatory Academy PCS | 6-12
Sousa Middle School | 6-8
Stanton Elementary School | PK3-5
Stoddert Elementary School | PK4-5
Stuart-Hobson Middle School | 6-8
Takoma Education Campus | PK3-8
The Children's Guild DC Public Charter School | K-8
Thomas Elementary School | PK3-5
Thomson Elementary School | PK3-5
Thurgood Marshall Academy PCS | 9-12
Truesdell Education Campus | PK3-5, 7, 8
Tubman Elementary School | PK3-5
Turner Elementary School | PK3-5
Two Rivers PCS | PK3-8
Tyler Elementary School | PK3-5
Van Ness Elementary School | PK3-3
Walker-Jones Education Campus | PK3-8
Washington Global Public Charter School | 6-8
Washington Latin PCS | 5-12
Washington Leadership Academy PCS | 9-11
Washington Mathematics Science Technology PCHS | 9-12
Washington Yu Ying PCS | PK3-5
Watkins Elementary School | 1-5
West Education Campus | PK3-5, 7, 8
Wheatley Education Campus | PK3-8
Whittier Education Campus | PK3-8
Wilson High School | 9-12
Woodson High School | 9-12
Options outside My School DC
PK Community-based Programs | PK3-PK4
Goodwill Excel Center PCS | Adult, High School Diploma
Kingsman Academy PCS | 9-12 (grades 6-8 participate in My School DC)
Latin American Montessori Bilingual PCS | PK3-5
Mary McLeod Bethune Day Academy PCS | PK3-8
Maya Angelou PCS – Evans High School | 9-12
Monument Academy Public Charter School | 5-7
Sustainable Futures PCS | Adult, High School Diploma