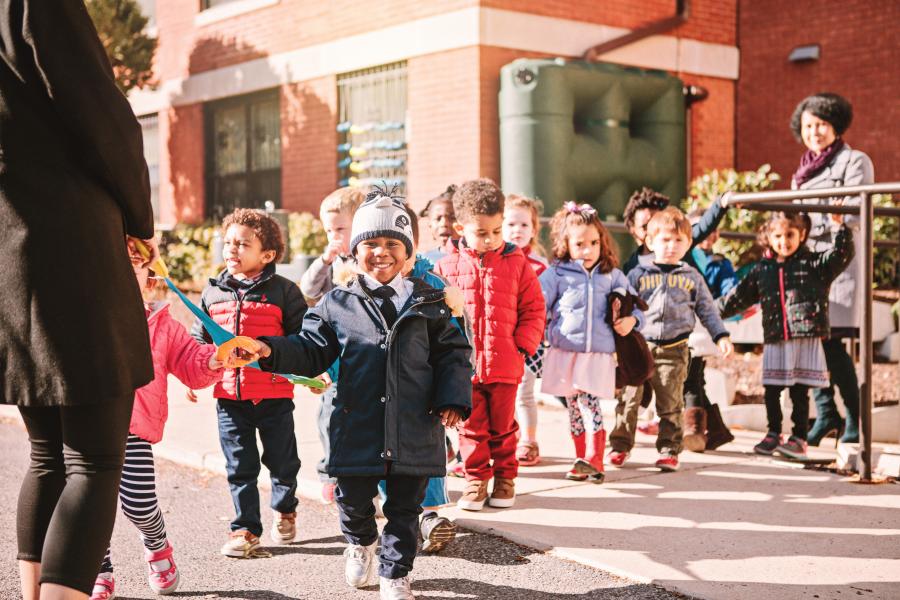 Apply to PK3 or PK4 by March 1, 2024 for the 2024-25 school year.
Pre-Kindergarten
The District provides free pre-Kindergarten (PK) education services in its public and public charter schools for residents who meet the PK age cut-offs. To be eligible for any school year:
Students must be 3 by September 30 to apply to PK3
Students must be 4 by September 30 to apply to PK4
Families must use the My School DC application to apply to PK programs offered by schools that participate in My School DC, including:
DCPS PK3 and PK4 programs, including the program in your in-boundary school. Click HERE to locate your DCPS in-boundary PK program; and
PK programs at public charter schools
Families can apply to up to 12 schools on the My School DC application. However, there is no guarantee of a lottery match or waitlist offer. Click here to view the number of seats offered and historical waitlist length and movement at each participating school.
My School DC encourages families to research all of their public PK options. Families can learn about their public school options by using the School Finder, and attending EdFEST – the annual public school fair, and school open houses. Make sure to download these helpful questions by parents for parents to ask of schools and programs when you begin your search.
The District also offers free high-quality PK for residents through community-based organizations (CBOs). To learn more about the District's high-quality community-based PK programs, click HERE. Community-based PK programs are not part of the public school lottery.
Instruction commonly offered in PK
Pre-kindergarten classrooms sometimes follow a program, or curriculum, when deciding what and how to teach. Schools may also create their own program that incorporates aspects of several curricula. The following programs are used by many schools in DC. Check out the school's profile, call the school, or ask at an open house about the school's approach to PK instruction!
Before and After Care
Many schools offer care to their students before and after school, but the programs vary in cost, availability and operation. Use the School Finder and filter by "before care" and "after care". Contact the school directly to ask about their before and after care programming, cost, and enrollment process. Click here for additional information on income-based child care subsidies.
---
Information about programs offered through DC Public Schools (DCPS)
DCPS in-boundary PK3 and PK4 programs
An in-boundary school is a DCPS school that a student has a right to attend for grades K-12 based on where the student lives. However, the "right to attend" is not extended to children in PK3 or PK4 and there is no guarantee of a lottery match or waitlist offer. If a family seeks to enroll their student in their in-boundary PK3 or PK4 program, they must select that school as one of their 12 selections on their My School DC application and rank it in the order they like most. PK3 or PK4 applicants will be awarded an "in-boundary" lottery preference at their in-boundary school and, at the time of enrollment, will be required to provide proof of residency at the guardian's address entered on the My School DC application.
DCPS Early Action PK program
A PK3 or PK4 student is guaranteed a seat at a designated DCPS "Early Action" school as long as they meet the following three conditions:
The Early Action school is the student's in-boundary school;
The student submits a My School DC application by the March 1 lottery deadline; and
The student is not matched with a school they rank higher than their Early Action school.
A student will not be waitlisted at any school they ranked below their Early Action School. The following is a list of the DCPS Early Action schools for SY24-25. To confirm if one of these schools is your DCPS in-boundary school, enter your home address into the School Finder.
DCPS Early Stages Assessment Center
Early Stages is a DC Public Schools assessment center for children between the ages of 2 years 8 months and 5 years 10 months. Any District resident can seek their free services to identify any developmental delays their child may have and arrange services to address them. Learn more here.
---
Information about programs supported by the Office of the State Superintendent of Education (OSSE)
PK programs through Community-Based Organizations
The District provides free high quality PK education services through publicly-funded community based organizations (CBOs) in DC. These programs are not part of My School DC. Families can search, learn about, and compare these CBO programs and additional child care options through My Child Care DC. A list of these programs can also be found here. Contact these organizations directly to ask about enrollment.