If your child is on a school's waitlist, you may log in to your family account for your status at any time. Waitlist updates made by any school will be reflected immediately when you log in. Any waitlist offer a school makes will be sent to you via e-mail and – if you opted in to receive text messages from My School DC on the My School DC application – by text with a deadline to contact the school and accept. The information in the sample results display below explains the terms you may see as waitlist movement occurs throughout the year.
Beginning April 1, 2023, families are able to re-rank the schools at which their children are waitlisted if they so choose. Please note that re-ranking the order of schools your child is waitlisted at does not give you a better chance of getting into a school. If you are called off a school's waitlist and accept the offer by enrolling your child at that school, you will still be removed from your child's current school and all waitlists of schools you ranked below the school you enroll in.
For additional information on waitlists, click HERE. Questions? Call the My School DC Hotline at 202-888-6336.
Sample Results Display
The information below explains the terms used in the lottery results, including next steps to accept or decline a waitlist offer. For a complete list of results terms, click HERE.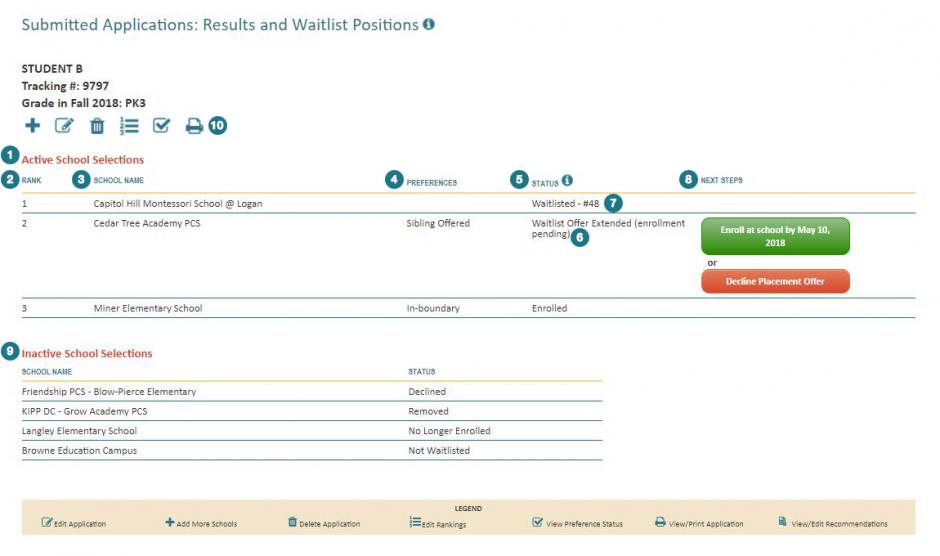 What do these terms mean?